Community / Passenger Mobility
Community mobility is defined as "moving around in the community and using public or private transportation, such as driving, walking, bicycling, or accessing and riding in buses, taxi cabs, or other transportation systems" (AOTA, 2008, p. 631). Community mobility is grounded in independence, spontaneity, and identity. It begins when we are passengers in a car seat and on the school bus, and continues as we learn to ride a bike and drive a car. Although the mode of transportation may change, the meaning remains constant: transport from one location to another enables participation in the things we want and need to do (occupations).
Williams Occupational Therapy specialises in driver assessments, rehabilitation, lessons, and equipment, however, we care deeply for those who are not able to drive. Just as much as we understand that driving is important for reducing social isolation, we also understand that if driving is not an option, other solutions need to be discovered. Our occupational therapy practitioners focus on enabling participation and community mobility across the lifespan. This includes transportation as an infant, child, or adult as a passenger with disabilities.
Williams Occupational Therapy evaluations for community mobility are tailored to the client and may focus on screening for passenger safety from Wheelchair access cars and vans through to behavioural harnesses for everyone's safety. Williams OT also offers assistance in school system capacity to transport general and special education students, readiness and ability to ride a bicycle or tricycle, ability to cross the street and negotiate curbs and sidewalks, visual motor skills for reading signs, driving readiness among adolescents, driving ability and safety, ability to use transportation other than a private vehicle, and driver–vehicle fit (when you purchase a car and want the best ergonomic fit).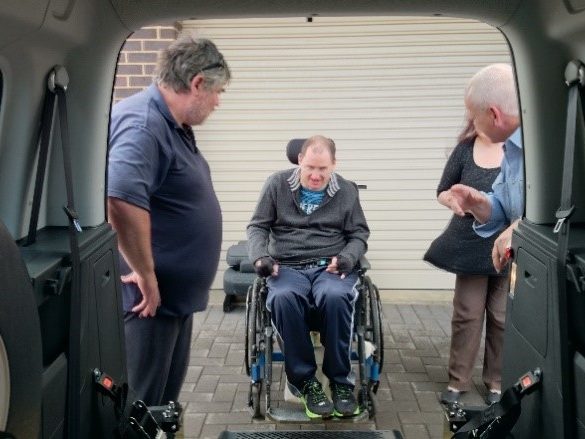 A Williams Occupational Therapist may offer interventions that include creating transportation alternatives and networks of community resources, restoring range of motion or strength, providing cognitive retraining, modifying vehicles with adaptive equipment, developing walking programs to improve health and function, and training in public transportation options.