Drivers with a disability
Driving is a freedom often taken for granted. Unfortunately, injury or illness can sometimes affect your ability to drive. When it does, we at Williams Occupational Therapy are committed to doing all we can to help you gain, maintain, or regain your independence.
We want to allow you to have control and the ability to get to the shops by yourself, pick up the kids in safety, get to work and earn an income, and visit family and friends.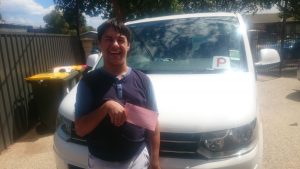 A doctor or other key stakeholder may recommend that you need to undertake a driver assessment, or maybe you are being proactive and want to increase your driving function or make sure you are safe on the road. We want to reassure you that we are here to assist and make it as pain-free as possible.
An occupational therapy driver assessment is just like going to any medical practitioner or health provider. We start with an assessment to determine what is going on. At Williams OT, our emphasis is on rehabilitation and finding solutions to help drivers drive.  We suggest that you take the time to listen to this Podcast episode where Brad, CEO was questioned about the OT assessment process and how OTs can assist people to reach their goals to drive or increase their community mobility. Otherwise, we break it down for you in a step-by-step process below so you can have confidence that we will do everything we can.

Williams OT recommends that you discuss your condition with your doctor. It is a requirement by the state licensing authority that a driver declares a medical condition that has the potential to impact driving performance or be subject to a significant fine. If you and your doctor are unclear if your condition or disability impacts driving, then a referral to Williams Occupational Therapy for a pre-drive initial assessment, prior to gaining your learner's license or moving further forward with regaining your license is recommended.
In an initial assessment with our Occupational Therapist (OT),  we will look at the concerns for driving and will determine if it is appropriate to continue with applying for your license. If it is appropriate, the Occupational therapist will assist you will how to navigate the state licensing system.
---
What are the steps to take to possibly regain your driving license?