Who is Williams OT?
Like any other company, we here at Williams OT live by our core values, share one vision and mission. But we are not ones to put it up on the wall for show and just ignore them. We want to share them with you so you can see what we are about, but also for you to keep us accountable.
Continue reading below as we share our core values, vision and mission to all of you.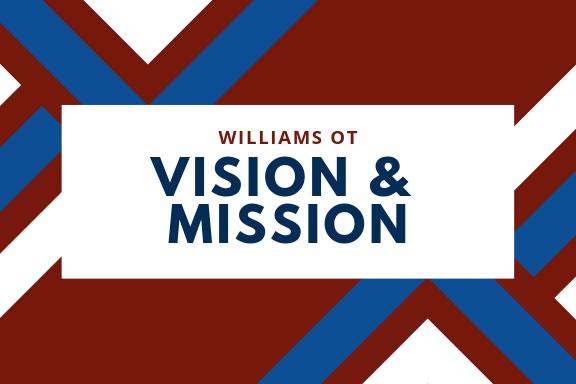 Williams OT Services
Occupational Therapy Driver assessments for light vehicle, heavy vehicle, motorcycle, and machinery
Learner assessment, rehabilitation and training for those with a disability
Experienced driver rehabilitation and training for drivers with a disability
Vehicle equipment and modifications to assist overcome physical disability for driving
Corporate driver training and assessment to assist prevent lower back pain and enhance driver health.
NDIS Registered
Differentiators
Williams Occupational Therapy, or simply Williams OT, is focused on the driver with a medical condition or disability. Williams OT has encompassed all the required services in one location rather than dealing with three or more different companies. Williams OT offers a high-quality assessment; we have the best rehabilitation and training, and we install of vehicle equipment and vehicle modifications that are customized for the client and their needs (not a product that needs to be moved off the shelf).
Williams OT offers excellence in service and support and invites clients to join our family.
Our Vision
A Driver Trained OT, Specialized driving instructor and Vehicle modifier for every 1,000,000 people.
Williams Occupational Therapywill be the most trusted, all-inclusive, Australia wide brand for helping drivers experience the freedom and independence of driving by assisting them to overcome functional and medical challenges that otherwise limit their ability to drive in a comfortable, safe and/or appropriate manner.
Our Mission
All the pieces of the Driving Puzzle for People with a Disability
Williams Occupational Therapy is all about the freedom of independent driving.
We fight for people with a disability or medical condition's independence in driving because we understand the freedom that comes from driving independently and not relying on others for life tasks such as getting to and from work, picking up the kids, getting a loaf of bread from the local shops, going for a Sunday drive, or traveling around Australia.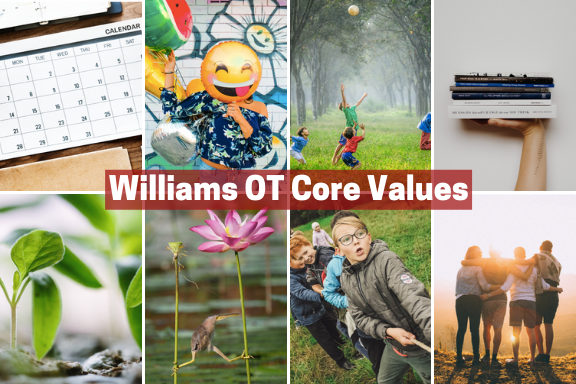 Accountability
Live by your Diary
Be on time
Attend all commitments
Complete all requirements – keep your promises
Everything has a place – put it back
Take responsibility for your actions (no blaming or excuses)
Positivity
Smile
Be warm and friendly
Laugh at yourself
Solutions focussed
Have a can-do attitude
Celebrate wins
Have fun
Collaboration
Lend a hand to each other
Ask for help when required
Have each other's back
Communicate openly and honestly
Contribute ideas and make suggestions for growth
Provide constructive feedback
Clinical Excellence
Always, always, always totally explore the person, the environment and the occupation
Always explore all options to find best outcomes
Lead with confidence – lead the client to best outcomes
Don't cotton wool clinical evidence
Recommend our signature systems, but understand that everyone is unique
Be an expert, be a specialist, even if we cant call our self one – Keep across research and resources
Ethical at all times
Growth
Embrace change
Listen to and take on feedback – it wont be repeated
Acknowledge your gaps in knowledge and skills and look to reverse this
Ask if you are not sure
Always look at the evidence and do your professional development
Step outside your comfort zone
We learn from mistakes so they don't happen again
Initiative
Take action over procrastination – don't wait to be asked
Don't assume someone else will do it
Share your updates with the team
Put your hand up
Solve the problem before it becomes one
Find ways to go above and beyond
Innovate and initiate
There is no such thing as a bad idea, just ideas and no ideas. Ideas shape the course of history
Commitment
Work towards the common goal
Achieve personal goals
Be proud of where you work and what you do – you make a huge difference
Put everything into what you do
Be dependable and a team player
Care
Have a conversation over an email or text
We have two ears and one mouth. Use them accordingly. Listen twice as much as you talk. Ask questions and listen for answers
Treat every client with respect and explore their background
Step into the shoes of the referrer and make their process as smooth and effortless as possible
Greet all people, not just your caseload
Check that other people are OK
Respect and take an interest in other's belongings
Celebrate each other's wins
So, now that you know what values, mission and vision we live by, we would like you to let us know any of the times you catch us doing something right or wrong. In a comment below this blog post tell us how we are performing according to our core values and vision and mission. Or write us an email via admin@williamsot.com
We love feedback.
---
---