Assistive Technology equipment and aids
We want you to develop independence through technology.
Our Occupational Therapists are passionate about helping you lead a more active and independent life and be active in all areas of your mobility.
For more than 10 years, Williams OT has been assisting people with disabilities with driving and getting to and from places as a passenger. Now Williams OT is taking that a step further. Not only can we help you get to and from places in your car, but we are taking our values and mission that have assisted us to build a well-known and specialised service that has assisted many people to experience increased freedom and independence and expanding this to offer other areas of assistive technology and home modifications. With a focus on mobility aids, wheelchairs, seating, pressure care, complex postural aids and related areas, Williams OT is now specialising in all areas of mobility.
Whether your aim is more freedom in daily living and getting around the house, attending your favourite activity, or getting around the shops, Williams OT is here to assist you to find the best solution to meet your needs.
Assistive Technology (AT) comprises of products (both mainstream and customised), environmental modifications, services and process that enables the participation of people with disabilities in their desired occupations (activities of daily living) across multiple environments and without prejudice (World Federation of Occupational Therapy Position Statement 2019).
With the support of Williams OT and the available technology, no matter what's important to you, you can achieve, develop and learn just like everyone else.
Finding the right tool for the job
It is of the utmost importance to be thoroughly assessed by a trained health professional with skills and knowledge in assistive technology to ensure the aids and equipment chosen are the best match and the right tool for the task. Our Occupational Therapists are highly skilled, Have the qualifications, and have extensive experience to carry out assessments for specialised equipment prescriptions to improve your functional capabilities.
Go it alone or use a therapist with reduced experience and knowledge and there's a high risk of choosing a technology that is not going to maximise your independence, or worse, hamper it. As an example, a poor prescription could lead to physical harm, as with providing wheelchairs without the correct pressure relief cushions. Williams OT is frequently getting referrals to fix other therapists' poor prescriptions. We don't want this to happen to you
Our therapists specialise in complex needs such as for people with deteriorating conditions and multiple disabilities. With a focus on improving all areas of mobility, we can also assist you in all areas of AT assessment and prescription. After a thorough assessment, our OT may prescribe you adaptive living equipment, such as a wheelchair, comfort and pressure relieving cushion, lifter for the car and much much more so you can succeed in your mobility no matter where you are.
No matter your needs, our extremely experienced OTs will work with you to identify the most appropriate assistive technology, equipment and home modifications for your situation. Once identified, we then go on to select, buy, set up and train you in the chosen devices or aids, so that they're correctly fitted and used and you're set up for safety and success.
Prescribing technology
Trained occupational therapists are required for assessment, prescription, fitting, user training and follow-up of assistive technology. Furthermore, our occupational therapists are highly skilled in applying for funding to purchase the equipment, such as completing NDIS applications.
For participants with an active AT budget in their NDIS plan, Occupational Therapy is often engaged to find the appropriate piece of equipment. As an example, a participant's wheelchair may not be fit for purpose, and we would help them find the right wheelchair.
Alternatively, and more commonly, we are engaged to identify different pieces of equipment that should be considered in the next plan review. In this scenario, we will perform a functional and environmental assessment to determine what equipment needs to be considered.
We predominantly prescribe mobility-related equipment such as wheelchairs and scooters for people to access the community safely. We are achieving excellent results through participants increasing their community participation.
Once we've assessed your needs, we'll trial various assistive technology options with you, to see what works best. We'll also spend time with you to make sure it's the right AT for the job and do all of the background grunt work to assist with funding applications.
Not only will we prescribe the right aid for you, but we can assist in assessing the environment in which you use it. We perform home modifications assessments and other equipment prescriptions, which can be anything from rails and ramps, to full wheelchair access modifications such as bathrooms, kitchens and more.
Below is a short list of the types of technologies we typically prescribe for people with disability, to help
Types of assistive equipment
(examples only and not limited to this list)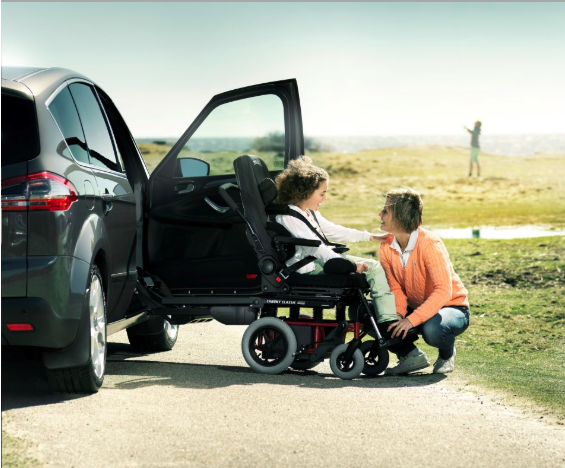 Assistive technology
Wheelchair
Scooter
walking aids
Car seats
Pressure care cushions and mattresses
Complex postural support
Sling or hoist, mobile or ceiling
other standing aids
Complex home modifications
boot lifters and vehicle access
etcetera
Aids and devices
Bathroom rails
Cutlery with thick handles for easy grip
Long-handled combs and brushes
computer technology
Modified computer keyboard and mouse
the list goes on.
---