Schizophrenia (and other Mental Health conditions) and driving. Are you still in the dark?
Schizophrenia awareness week is on this month, 20 to 27
th
of May
In South Australia you might be interested in:
Skylight

Wednesday 23 May: Panel Style Forum: Schizophrenia Awareness Week
Hear lived experience speakers share what 'they do', and what 'we can do' as a community to support recovery
When: 1.30pm – 3pm
Where: Skylight Wayville, 5 Cooke Tce, Wayville SA

Bookings essential. For more information and to book, go to www.skylight.org.au or phone Skylight Reception on 08 8378 4100.
You can find out more about what's going on to support the week at https://www.minetworks.org.au/schizophrenia-awareness and https://www.mentalhealthcommission.gov.au/media-centre/events.aspx
Recent events
In April 2018, Brad Williams, Director and chief independence builder at Williams OT was invited in to give a talk to the rural and remote mental health occupational therapist. The talk was designed to offer education to the OT's as they were reporting to be "in the dark" about driver assessments and rehabilitation options and what was available to assist their clients.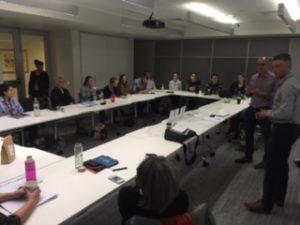 With Schizophrenia week May 20 to 27, we thought that this was a great time to share with everyone the presentation that we put forward. I have attached a link to the presentation below. I share this with you to assist you in your understanding, especially if you are a Mental Health OT or Mental Health allied health worker. 
Of course, the information in the PowerPoint presentation is never as good as it is presented in person, but I have included my talking notes as personal touch also. The information in the presentation is up to date as of May 2018, but may change as time moves forward.
You can download our PowerPoint presentation here:
What did you learn from the PowerPoint?
Did you get through to slide 12????
At Williams OT we stay up to date with all the current literature. That is a really important reason to join or stay subscribed to our email list. Every month we send out a newsletter. And every month we provide links to the important articles to do with driving and driving with a disability or medical condition. We also highlight any other relevant articles we think our subscribers might benefit from.
Recently we saw a brand new article come through that was VERY relevant for mental health OTs. Check it out in the slide presentation from slide 12 onwards where we discuss the SPOT-DS, or, the Saskatchewan Psychiatric Occupational Therapy Driving Screen.
The SPOT-DS in the first comprehensive driving screening framework developed for generalist (non-driving) OTs working with clients with psychiatric disorders.
It is a tool to help clarify if clients might be safe to continue driving, or might need a more comprehensive driver evaluation.
What it is is a clinical reasoning tool and is a step towards creating a more systematic approach to driver screening in the psychiatric population.
In the slide presentation, we provide the links to the tool that you can download for free. How cool is that?
We also work through some of the example clients to help you with getting to understand how the tool works (you're welcome).
Finally, the presentation helps you to understand where an OT driver assessment fits and how it can be beneficial for clients with schizophrenia or other mental health condition.
Opinion
We would really love to hear from you. If you are in the field as a mental health OT, we would love to hear from you in the comments section below, what you think of the tool and whether you have used it. We want to know if it worked well and if it is a tool that you would recommend. If you like it, we would love it if you shared it with other Mental Health OTs from around the world.
If you have any tools that you think would assist other OTs to understand more about driving, then let us know and we can look into it and share it like this.
And remember, if you use the SPOT-DS or any other screening tool and it recommends further assessment, Williams OT Driver Assessment and Rehab are here to assist.
---
---