Wow! Is it just us or is January full of surprises? Are you ready for this month's highlights? We sure are! Read more below.
---
Mobility Engineering Vehicle – Last Call to test out the latest vehicle modifications
---
We've been very lucky that the Mobility Engineering Vehicle is with us – they have lots of cool features, like the Kivi tip-up plate, turn out seat, lowered floor conversion and so much more! So if you'd like to come in and test these out, the vehicle is with us until the 10th of February 2020 – you can email us at admin@williamsot.com or call 0466 592 891 to book your trial now! Watch the video below to find out more:
---
Williams OT Geelong Expansion
We are super excited as the Williams OT Family and Team is growing! We are finally in Geelong and we can't wait to help out people with disabilities gain their independence back through driving throughout the Greater Geelong Area.
---
Since we are expanding into Geelong, we would like to introduce to your our latest team member, Stacey! Stacey will be assisting participants of the NDIS, TAC, and all other private and other funding bodies. She is currently available for assessments from February onwards.
Hi everyone, My name's Stacey. I am so excited to be joining the Williams OT team this month. I was first exposed to the amazing work Williams OT is completing when finalising my post-graduate studies in driver assessment and rehabilitation. I was in awe of the innovative work, research, therapy and comprehensive knowledge displayed by their therapists, and feel extremely lucky to now be part of this team. I am passionate about assisting individuals to achieve their goals of obtaining or retaining their license and am very much looking forward to providing this service in the Geelong region with Williams OT.
Read more about Stacey by clicking here
---
Attention: Driver Trained OTs
If you are a Driver Trained OT, turn on the volume and watch this video below now!
---
Happy Birthday, Brad! ?
We'd like to greet our CEO, Mr Williams OT himself, Brad a very happy birthday! As much as he tries to hide it, we love him so much that he can't hide from a birthday cake – or in this case, birthday doughnuts! ?? Cheers to more birthdays to come and we wish nothing more than good health and success of Williams OT! The team will be behind you every step of the way!
---
Featured Vehicle Modification
Brad introduces you to transfer turn out seat newly installed to the Williams OT assessment and rehab vehicle. In the video below, you can see Brad go through the functions of this fancy transfer turn out seat.
Now, in this second video below, Brad demonstrates the use of the transfer turn out seat.
If you want to know more about this product or any other driving aid, then let us know with a comment below, or email us at admin@williamsot.com and one of the Williams OT team will be in contact.
---
Congratulations to our clients!
What a way to start the new year! We've got clients left and right passing their L-plates, P-plates and driving their way to independence!
Tony is behind the wheel once again! Great job!
Congratulations on getting your P-plates James!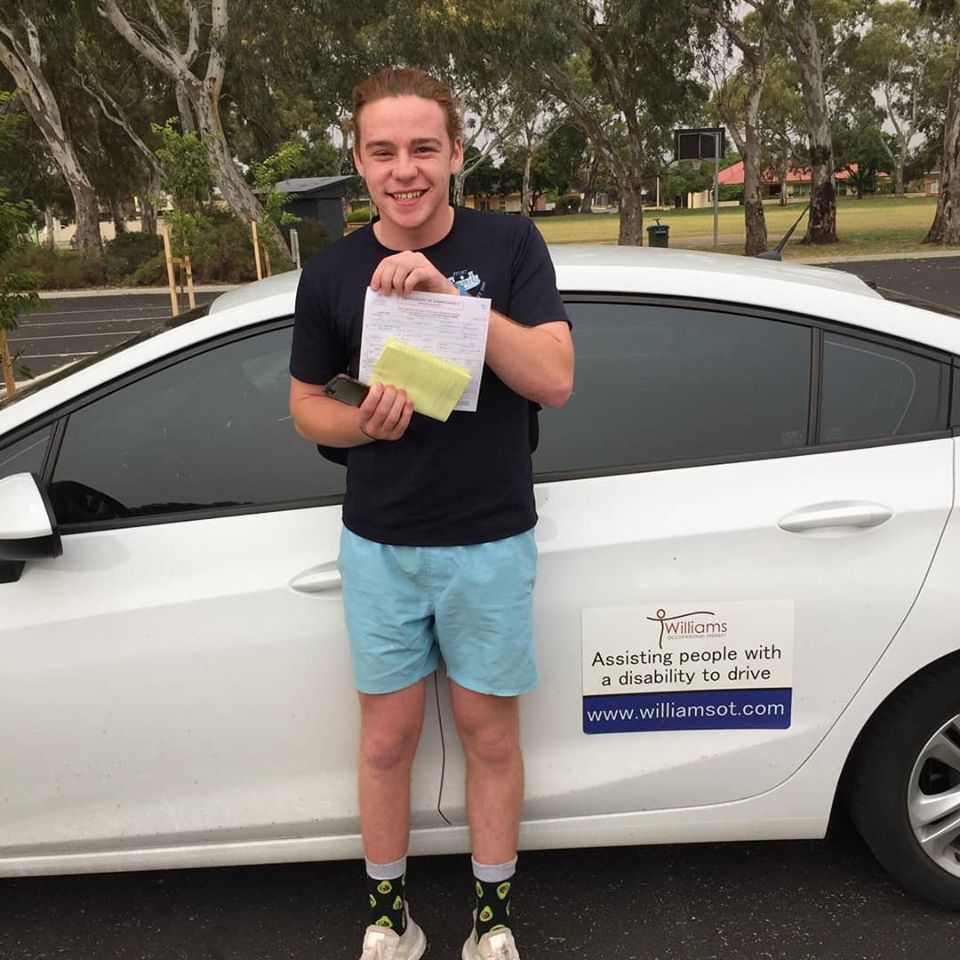 Luke is now happily driving with the help of his left foot accelerator!
These are just some of our very happy clients and we wish all our clients a happy and safe driving! See you on the road! ?
---
The 6-Way Base
One of the latest mobility solutions from our trusted partner and supplier, Mobility Engineering is here. Introducing the 6-Way Base. This is suited to wheelchair users that are able to do a standing or sliding transfer.
This adjustable base makes it easier to transfer from a wheelchair to a safe, stable and comfortable car seat inside a van. It allows you to move the driver seat backwards, rotates and adjust it in height to bring the driver seat next to the wheelchair.
Quick Facts:
Easy to operate with only three toggle switches
Designed to eliminate sway and to provide complete stability
Blends well with the vehicle's interior design
The original seat can be mounted on top of the 6-way base
Crash test approved in all driving positions
Available in both left and right models
Stylish cover to protect from accidental pinching
You can also download the brochure here.
---
Some interesting articles for you
---
PS: Don't forget to download our latest e-Book Williams OT Ultimate Guide to Maximising your NDIS Plan! Click the photo down below to download!