July 2018 Highlights + More
July's come and go, and before we know it, it'll be the end of another year already. But before that, let's take a look at our highlights for the month of July.
---
July Featured Blog Post
This month we discuss the recent changes to the NDIS travel arrangements for providers. If you are on the NDIS and you have been receiving input from us, especially if we have been coming to you, this definitely impacts you. If you are new to the NDIS and driving is part of your goals, you will need to consider this as you move forward with your plans. And if you have received a quote from Williams OT in the past and you are waiting for your planning review meeting, this also impacts on you as your quotes will now be out of date. Click here to read more about the changes in NDIS travel arrangements.
July Featured Vehicle Modification
One of the neatest hand control systems going around and we are the only company in Australia improving and installing this style of the push-pull hand control.
Do you want or need this kind of modification for your car? We have more options for you or you can email us through admin@williamsot.com
Featured Video for July: What if You Have Lost Your Ability to Grip the Steering Wheel?
Click on the photo below to watch
---
Featured Client for July: What's it like to have your driving licence suspended at 77 years old?
Well, that's what happened to me during December 2017, due to loss of Motor Nerves to both legs(not curable) which affected my ability to operate the brake pedal and throttle in a safe manner. I felt devastated and, an acute sense of lost freedom, From now on I was reliant on my wife or others to take me to places I would normally drive to myself.
My GP and others suggested I should consider being assessed by Occupational Therapist to see if I would be suitable to have my Mazda CX3 fitted with hand controls.
Eventually, I was referred to an occupational therapist for my driving. The occupational therapist assisted me through every step of the process to regain my licence.
I now drive my MazdaCX3 with installed hand controls with confidence, SAFELY, and other road users.
If you are reading this and are in a similar situation you can do no better than to contact/talk with a driver trained occupational therapist.
Sincerely
Ross
---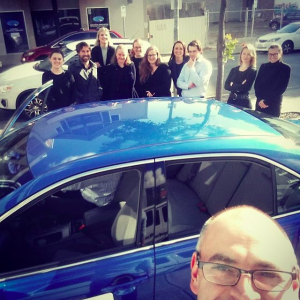 Other events
Early in July, we enjoyed a great lunch, learn and play session with the team from DBH. The eager Lawyers learnt about driver assessments and then had a go at hand controls, a left foot accelerator and one-handed steering.
If your team have potential clients and want to share in something similar, let us know at admin@williamsot.com
---
Some interesting articles for you
---
---